VA Clinic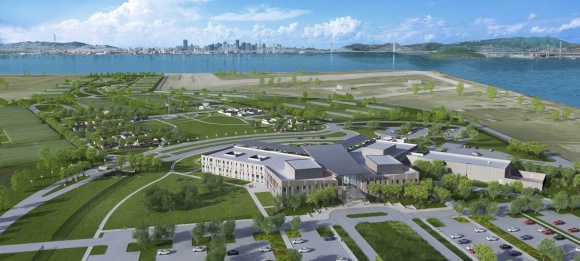 The U.S. Department of Veterans Affairs (VA) Northern California Health Care System and National Cemetery Administration are seeking to establish a single location at Alameda Point to serve Northern California area veterans that addresses the area's current and future capacity needs and provide a greater range of veteran services.
Their plans include building an outpatient clinic, columbarium, and offices on 112 acres of a 624-acre parcel. The remainder – 512 acres – will remain undeveloped. The undeveloped area includes the nesting site for the endangered California least tern, as well as habitat frequented by over 180 bird species.
In order for the VA to locate their buildings further away from the endangered least terns nesting site, in March 2013, the City of Alameda agreed to forego 74 acres of land that was slated to go to the city as public trust land.
On November 3, 2014, the Navy officially transferred 624 acres of the former airfield to the VA at a ceremony held at the Alameda Theater.
Click on any image below to activate manual slideshow and enlarge images.